Vintage Multi-Use Glass Top Mahogany Display Tabletop Storage Case Cabinet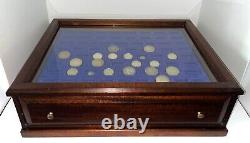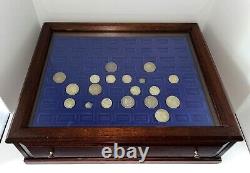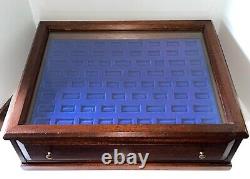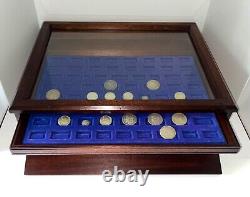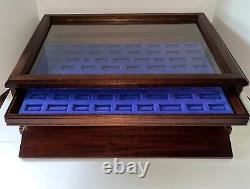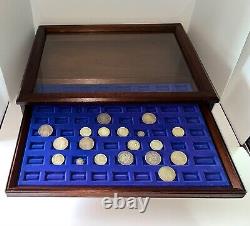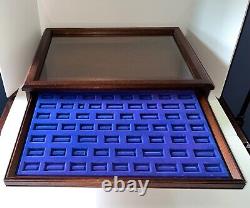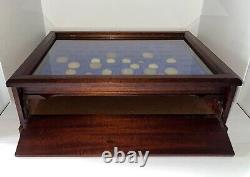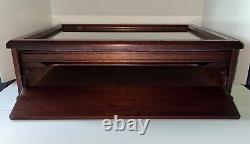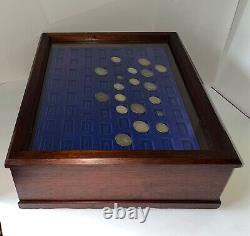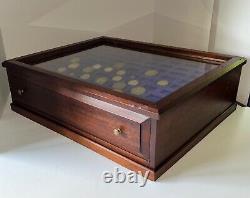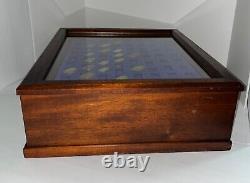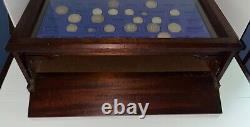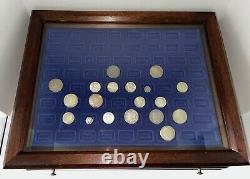 A beautiful and vintage multi-use tabletop/countertop display storage cabinet. The elegant, solid mahogany glass top cabinet has a drop door with two brass pulls in the front that reveals a thin slide in display tray with 67 recessed sections that can hold varying sized coins, small pieces of jewelry, pins, medals, etc. Please note that the blue flocked insert with the 67 recessed sections is removable if one so wishes to utilize the display tray without it.
Under the tray is a large and deep storage area which at one time held another tray. Shelf supports are still in place and another display tray could easily be fabricated for an additional alternate display, if so desired. The cabinet was produced by The Franklin Mint in 1974 and at one time held. Sterling Silver Ingots, each ingot depicting the flag of a UN-member nation. The cabinet measures approximately 22 inches long, 17 3/4 inches wide and 6 1/2 inches deep while the tray itself measures approximately 20 1/2 inches long, 15 3/4 inches wide and 1 inch deep.
Inside the drop door and under the tray, the storage area measures approximately 20 1/2 inches long, 16 inches wide and 2 1/2 inches deep. The cabinet is in very good condition, very sturdy and sound, with some scratches to the glass top and some nicks and scratches to the wood throughout, commensurate with age and use. There is also a strip of molding missing at the rear back bottom of the cabinet (pic 17) which being in the back is not very noticeable.
A very well-made and high-quality display case cabinet which can be used not only at home but also at collectible/antique shows. It is rare and unusual to find just the case alone to utilize for display and storage.
Please note that the coins used in the cabinet were for display purposes only and are not included with the case. From a smoke-free, pet-free home.

---