Miniature Display Case Display Cases for Collectibles Miniatures Sto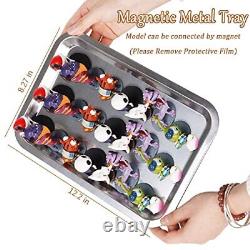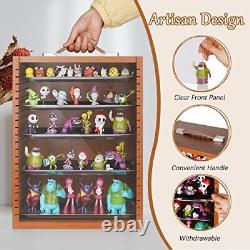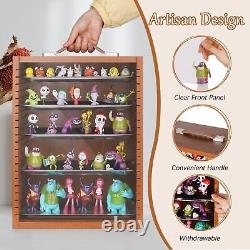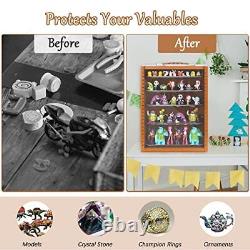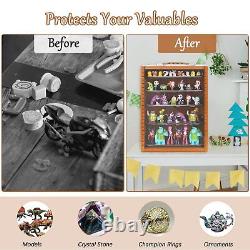 The miniature storage case outside size: 16.54x12.8x9.25 inches; Internal size: 15.35x11.81x8.6 inches; Magnetic metal trays size: 12.2x8.27x0.6 inches; Each tray is adjustable and distance between rows: 0.7 inches. Overall weight of the miniature case is 9.9 lbs, you have plenty of strength to hold and carry it.
Please pay attention that the toys are NOT included. Magnetic Metal Trays & Adjustable? The miniature display case includes 5 metal magnetic trays, these trays can be fixed with magnetic items, it allows you to fix your model with magnets on the tray.
The metal trays slide in and out easily, allowing you to adjust the height of each level. This design holds your collection more securely and allows you to accommodate more miniatures in one box. The trinket shelf comes with a comfortable and sturdy carrying handle on the top of the case, so you don't have to worry about the handle breaking or installing a carrying handle.
It also comes with a screwdriver that will help you install the case in minutes, and the case display cabinet keeps dust out, so your collection will always look like new. The action figure display perfect for storing your any collectibles, mini pop figures, vinyl figures, dolls, rigger fingers, jewelry and crystal stones, etc. You can freely adjust the size of the tray spacing to store large collectibles. This hotwheels display case is suitable for storing merchandise displays, office displays, casual home indoor displays and even trade show use.
This trophy case display cabinet is the perfect choice for gift giving. It is beautifully crafted, sturdy, and affordable, making it perfect for gifting on any holiday or special occasion. More importantly, this figure display cabinet can highlight the beauty of collectibles and make them more attractive. This miniature storage case is the perfect gift for collectibles lovers.
This miniatures storage case is the perfect choice for gift giving.

---