LCD Fingerprint Cabinet Automatic 6 Watch Winder With Watch Storage Display Case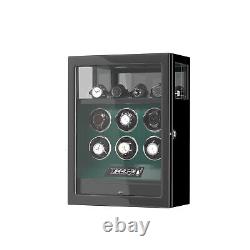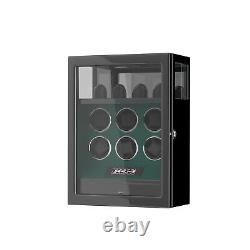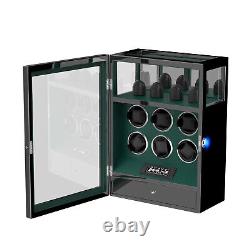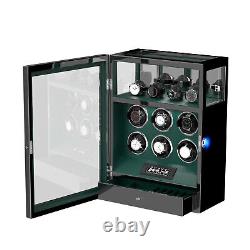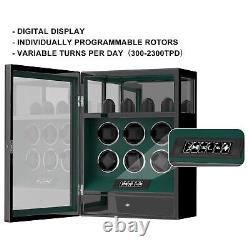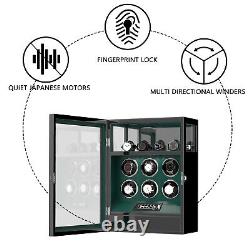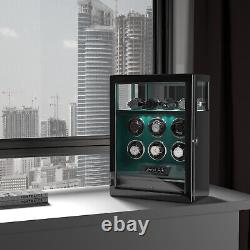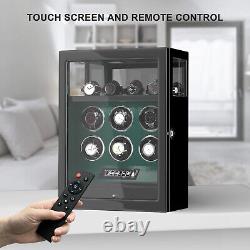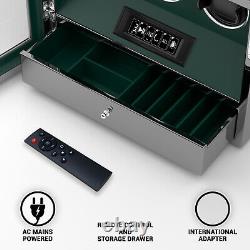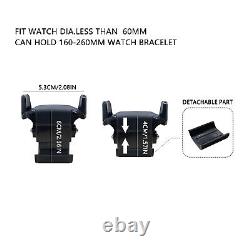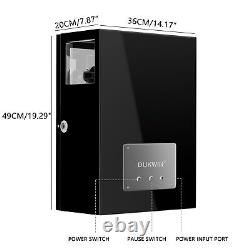 The fingerprint sensor can set up to 20 fingerprint users(2 administrator and 18 user accounts). LCD and Remote Control: Shows all information on the watch winders modes.
Touchscreen option and Remote Control make a setup process much easier. Variable Rotation Settings: Turns-Per-Day range from 300 to 2300. Quiet Motors: Adopt Japanese Mabuchi motors, extremely quiet running. The noise is less than 5db, which is completely negligible.
Never worry about disturbing you. Black Piano lacquer Finish: The watch's exterior is finished in a sleek and modern black piano lacquer, providing a high-quality and elegant look. LCD Fingerprint Cabinet Automatic 6 Watch Winder W/ Watch Storage Display Case.
Watch winder with storage case. Fingerprint Unlock : Our new upgraded watch winders has built-in fingerprint unlocking, improve unlock security. Built in drawer storage for jewellery. Noise level is below 5 db.
TPD Calculation Method : 10 turns per cycle. 24-hour mode operating cycle (minutes) =1440/ (TPD/10 turns).
12-hour mode operating cycle (minutes) =1440/ (TPD/10 turns) /2. 8-hour mode operating cycle (minutes) =1440/ (TPD/10 turns) /3.
G: TPD set to 650, clockwise, 24 hours mode. Then the running period (minutes) =22.2, that is, each cycle is 22.2 minutes.
Cycle execution: the time required for the motor to rotate clockwise 10 times + the motor stop time = 22.2 minutes. In the 12 (8 hours) working mode, the cycle runs for 12 (8 hours) hours and then stops; stops for 12 (16 hours) hours, and then restarts the cycle.
There is no magic number of rotations that will wind your watch. Things such as how active you are, how many complications your watch has, how frequently you use the chronograph function, how frequently you wear your watch, the watch make, how long it has been since it was last serviced and a host of other variables will impact what your watch requires to stay wound. And a watch winder won't wind a watch that is fully stopped.
So, you need to manually wind the timepiece to get it running first. You will have to make this determination by trying the various settings. 36cm (L) x 20cm (W) x 49.5cm (H) / 14.17" x 7.87" x 19.48. 50cm (L) x 36cm (W) x 65m (H) / 19.6" x 14" x 25.6.
1x Admin Key(USB Key). An unpaid case will be opened automatically in 4 days for any unpaid items without communication. For both local and international buyers. To see if you are eligible please check below. We must be notified within 30 days of you receiving the item that you intend to return it.
You are responsible to cooperate with custom clearance if required by our carrier. If a defect arises and a valid claim is received by us, we may, at its option, repair the product or replace the product. We will replace your item if it is found to be dead on Arrival (DOA) within 7 days from the date of dispatch.
Any DOAs must be contact return to us within 7 days. All other relevant information will be sent to you at this time.
We do not accept any item return by COD. You are responsible to ensure the product is packaged securely to prevent any damage during the return of the item. Failure to do so may affect the ultimate resolution to be offered, which may include repairs, replacement items or store credit at our discretion. Battery, earphone, cable, carry bag etc. Your satisfaction is our ultimate target!
We will reply you ASAP. Our aim is to provide Top Level Customer Service, so we will try our best to solve any problem you have.
LCD Touchscreen, Remote Control, Drawer Storange.

---